Immortal home introduction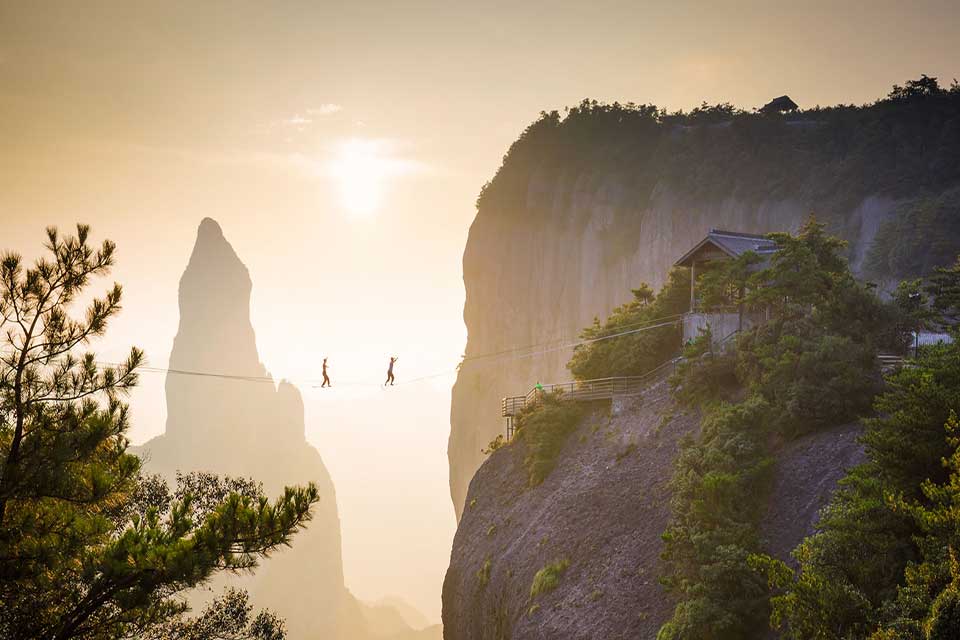 God immortal home for the state 5A level scenic area, located in Taizhou City, Zhejiang Province Xianju County, about 20 kilometers south of the town of White Tower, Zhu Yong Expressway, "Shenxianju exports." Scenic spot developed and operated in 1998, September 26, 2013, the government invested 150 million yuan to re-create a new immortal Scenic Spot officially opened. The new god immortal scenic area built two north-south mountain cableway, built cliff cliffs, erected high-altitude cable bridge, the scenic organic connection, forming a gorge exploration area, Peak Scenic Area, upstream exploration area, Qibwen Quest Area and many other features Plate.
Scenic spots within the original West Temple. According to "Guangxu Zhi • Temple View" contains, here is the Song Xue Ya Jackson Master Zhuo tin land, emerging as a cluster, the Ming Dynasty Wu when he was young to study in this. Ming Wanli (1583) monk Guangzheng also fund-raising reconstruction. Due to the erosion of the wind and rain, the ruins of the temple are now destroyed and the bell is no longer available. According to statistics, no fewer than tens of thousands of tourists come to this year. Won the "immortal home", "Taoyuan Wonderland" and many other praise. God immortal fascinating place, lies in a mountain of water, a cliff a hole, a stone and a peak are their own. One word: "odd". Peak odd, odd mountain, strange stone, cliff is also odd. Starting from the county seat, Xuyi Westbound, Dalei Hill, including Cangshan, are constantly expanding. Only Baita town south, Shen Xianju crowded hills around the independent, extremely steep, very different.
Shen Xianju is the world's largest typical volcanic rhyolite landscape, landscape rich and concentrated. There Guanyinyan, such as coming, welcome mountains, general rock, sleeping beauty, eleven vent waterfall more than 100 attractions.
Scenic honor
1

December 2005 Shenxian Habitat area was named the national AAAA level tourist area.

2

God immortal scenic area in 2007 was named one of the top 50 scenic spots in Zhejiang Province.

3

Shenxian Habitat 2008 was named the first batch of scenic areas in Zhejiang Province tourist area.

4

2015 immortal scenic area was named AAAAA national scenic spots.

5

In 2017 Shenxianju Scenic Spot was awarded "Top Ten Poetic Landmarks in China" and "Best Sports Travel Destination".

6

In 2017, Shenxianju Scenic Spot became "the birthplace of the world's high-altitude fancy belt movement" and "China's first international high-altitude flat belt sports promotion base."

7

September 2017 Shenxian Habitat won the "2017 China Sports Tourism Scenic Area."
What We Offer
God immortal, ancient mountains, also known as Weiqiang Hill. Is a national 5A-level scenic spots. Hill left the Qing Dynasty Qianlong county magistrate He Shu calyx, "the first city of haze," Yixing steam Xia Wei Xian, beautiful scenery, the best in the world.
Shenxianju unique geological structure, is the world's largest cluster of volcanic rhyolite landscape, a mountain of water, a cliff a hole, a stone a peak, can become a grid, forming a "Guanyin, Tathagata, Tianmu peak, sea of clouds, Waterfalls, tadpole article "six wonders. God immortal scenery distinction between the South China Sea, the North Sea two, "Xi Xijian sail", "screen cloud of smoke", "Buddha sea Vatican", "Thousand Cliffs Dicui", "plowing red sunset", "wind shake Spring Wave" "," Dan Zhu Tingquan "is called the gods Habitat new eight big King. South and North on both sides of the scenic area, as the scenery of the canyon south, Lin Quan dependencies, rock odd, waterfall male, Valley secluded, hole dense, clear water, fog beauty to win, thousands of peaks, magnificent weather. From the North Sea cableway to the South China Sea cableway, several kilometers of the journey are hundreds of meters in the sky on the boardwalk. In the meantime, they walk on the six lanes of Bodhi Road, Prajnaparamita Road, Cause Road, Avalokiteshvara Road, Flying Eagle Road and Inaction Road. Negative oxygen content in the scenic area of unusually high, an average of 21,000 / cubic centimeter, the highest point of 8.8 million / cubic centimeter, is a veritable natural oxygen bar.
Sea of clouds
Sunrise
Rhyolite rhyolite
Waterfall group
Guanyin peak
Hanging plank
Eternal mystery tadpole cliffs